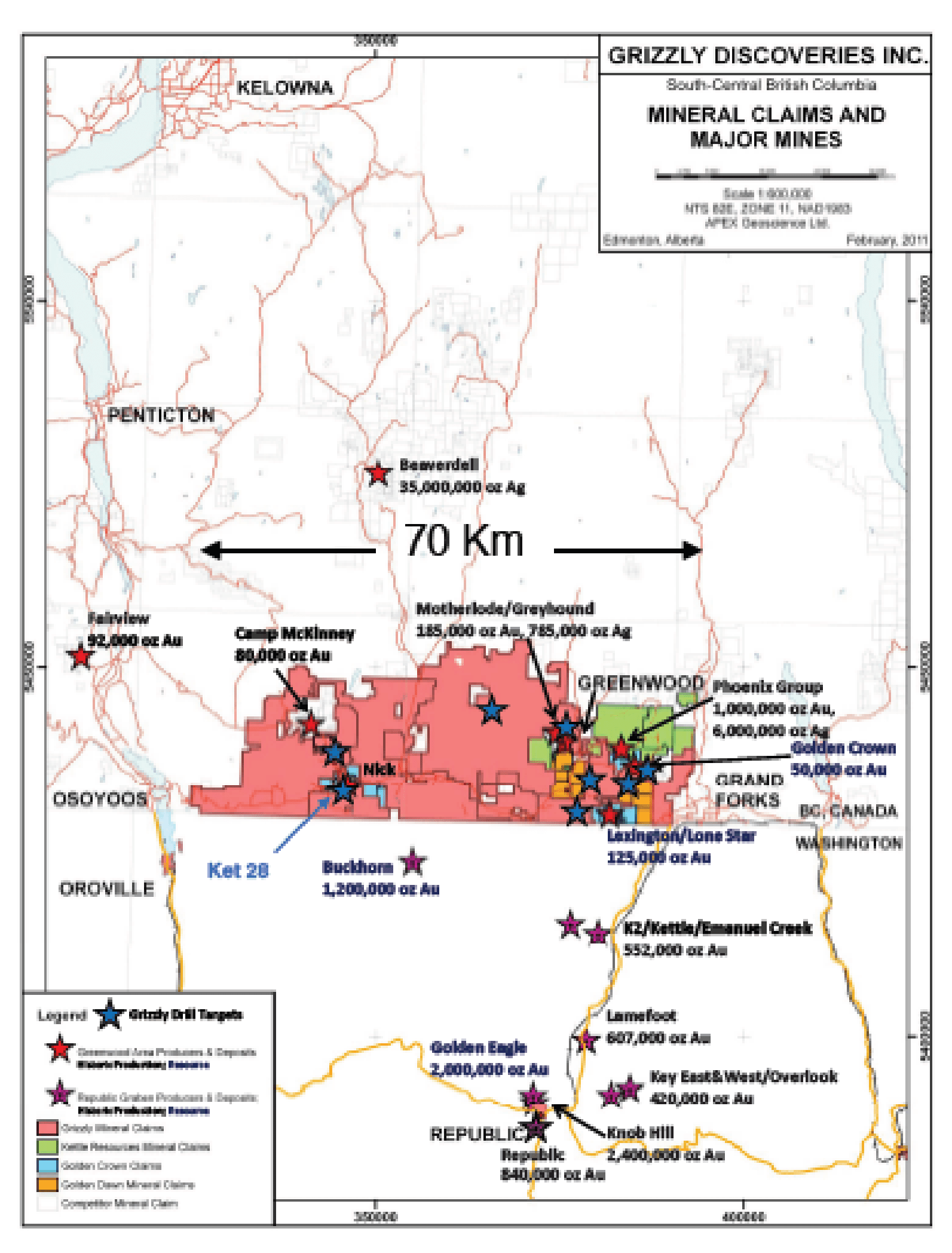 OVERVIEW
Since 2008, the Company has consolidated a previously fragmented historic mining camp with mineral claims covering approximately 180,000 contiguous acres in South-central British Columbia, in the historically productive Republic-Greenwood Gold District, abutting the border with the United States.
The Republic-Greenwood Gold District has historically produced an aggregate of more than 6 million ounces of gold ("Au") prior to Grizzly's acquisition of the Greenwood Project. The Greenwood Project also sits less than 10 kilometres ("km") north of the Buckhorn Gold Mine, Kinross" producing gold mine in the US, which had a 1.2 million ounce ("oz") gold resource at 16 grams/tonne of gold ("g/t Au") at start up in 2010, and less than 50 km north of the Golden Eagle Project, having greater than two million ounce gold resource. Based on compilation, assessment, and exploration work conducted by the Company, Grizzly believes that a large portion of the Greenwood Project lands over a continuation of the same geological structures as these two mines.
The Greenwood project consists of a number of Company managed exploration projects: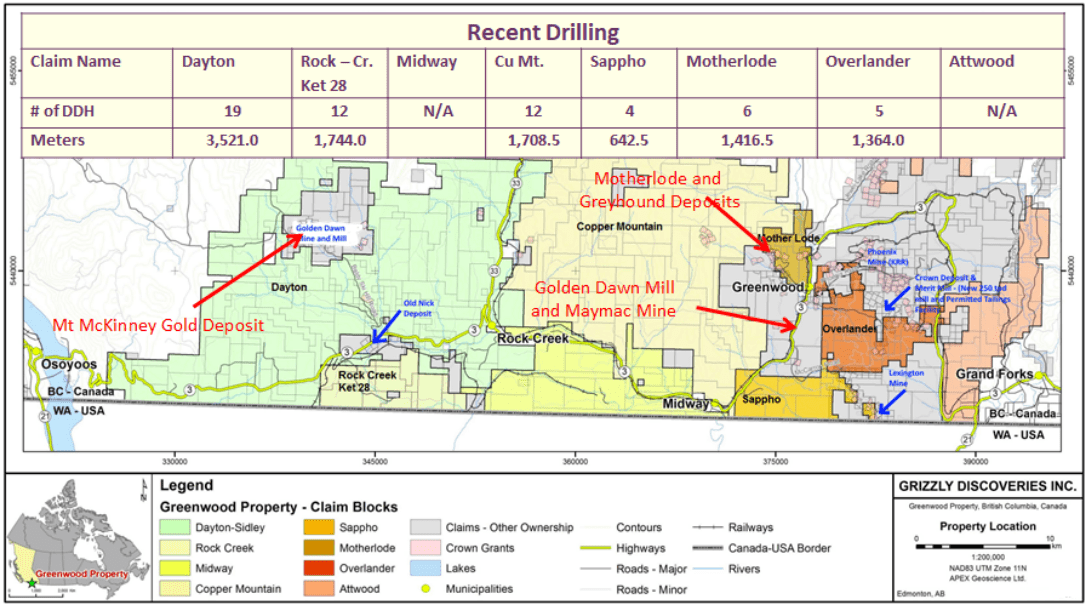 Please see the NI 43-101 Technical Report on the Greenwood Project, dated November 26, 2013.
KET 28
The Ket 28 gold target is located in a road accessible, proven and prolific area, adjacent to the US border in south-central British Columbia, Canada.
In Q2 2020, the Company completed a 15 hole exploration program at the Ket 28 property. The program was completed on time, on budget and gold mineralization was present in 14 of the 15 holes completed at the prospect.
2020 Drill Program Gold Target Highlights:
Results from the last nine holes intersecting broad, near surface gold mineralization. Key intervals include 0.92 grams per tonne (g/t) gold (Au) over 14 m from 27 m including 4.53 g/t Au over 2 m, (20KT14) and 0.48 g/t Au over 11.84 m from 20.16 m) including 3.6 g/t Au over 1 m from 20.16 m (20KT13) (Table 1).
Results from the first six holes intersecting broad, near surface gold mineralization. Key intervals include 1.59 g/t Au over 17.8 m from 43 m including 7.37 g/t Au over 3.08 m, (20KT02) and 0.77 g/t Au over 31 m from 54.5 m) including 1.42 g/t Au over 11.5 m from 61 m (20KT04) (Table 1).
The Ket 28 Target remains open with multiple zones to below a 125 metre vertical depth towards an underlying and potentially larger porphyry type feature represented by a large 1 km by 2 km geophysical anomaly;
All drill-holes intersected variable amounts of sericite-pyrite alteration with quartz veins and silicification hosted in a sedimentary schist, mafic volcanic to basalt package of rocks;
Drilling has expanded the volume and extent of gold mineralization at surface and to depth, with a strike length of greater than 500 m, a width of about 100 m and multiple near flat lying zones intersected from surface up to a depth 125 m depth
Diamond drill program consisted of 1,975m in 15 drill holes
Ket 28 2020 Drill Hole Locations
The Company conducted an exploration program in 2009-2010 consisting of rock and HMC sampling, ground geophysics, and a nine diamond drill hole program. Rock samples near the Ket 28 prospect in the Rock Creek Block yielded assays up to 53.2 g/t Au. A ground magnetics and horizontal-loop electromagnetic ("HLEM") survey was completed over the Ket 28 prospect and indicated the presence of a northwest oriented structure and a large magnetic anomaly of which the Northwest edge is associated with Au mineralization. Drilling at the Ket 28 target indicates the presence of wide zones of hydrothermal Au-Silver ("Ag") associated with extensive alteration along a northwest structure. The best drill intersections obtained during the Company's exploration work are 11.9 g/t Au across 2.0 m core length and 8.85 g/t Au across 3.0 m core length.
Planned exploration for the Ket 28 includes a program of up to 11 drill holes, with the focus to develop a maiden resource.
DAYTON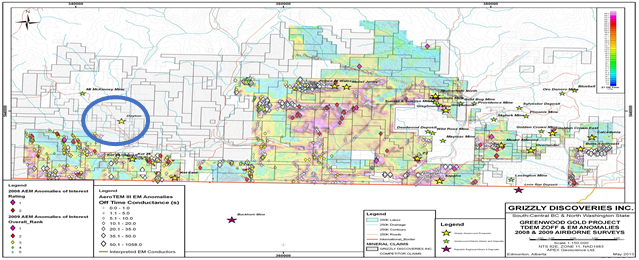 The Dayton-Sidley block represents the North-westerly corner of the Greenwood Project. The Company conducted exploration on the Dayton-Sidley block in 2009, 2010 and 2011, which included 14 holes (2,777 m) of diamond drilling at the Dayton Prospect. Results from exploration at the Dayton Prospect indicate porphyry bulk tonnage style Au-Copper ("Cu") mineralization, open to depth and along strike. The best drill hole intersections to date is 0.43 g/t Au and 0.15% copper (Cu) across 51.0 m core length.
MOTHERLODE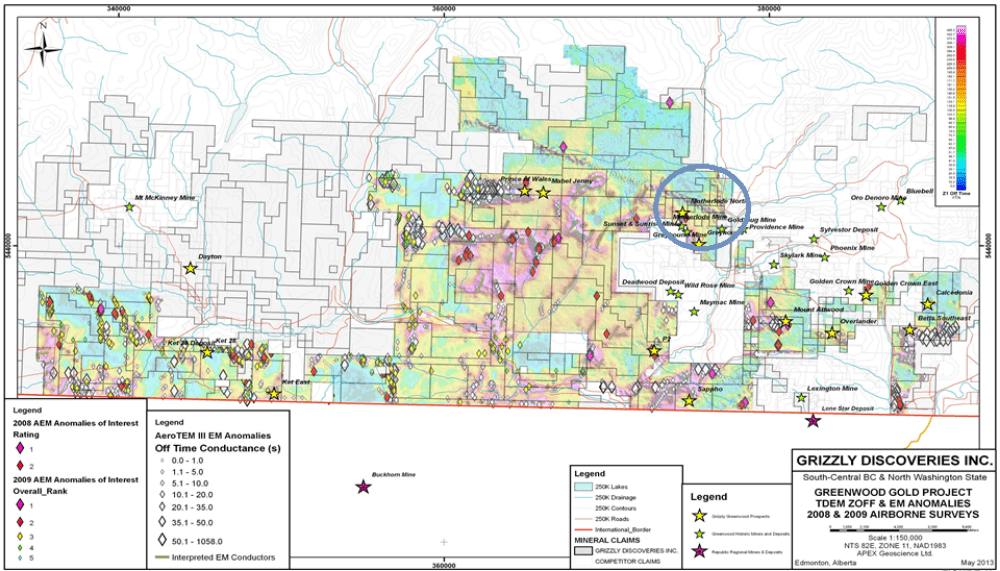 The Motherlode claim block is located just East of the Copper Mountain block and covers three historic producing Cu-Au skarn deposits from which a total of 4.2 million tonnes at a grade of 0.8% Cu and 1.3 g/t Au was produced in the periods 1896-1918 and 1956-1962.
The Company conducted exploration on the Motherlode block in 2008 through 2011 consisting of HMC analysis, rock and soil sampling, and ground geophysics. Rock sampling was focused on the areas surrounding the existing Motherlode, Sunset, and Greyhound pits, with seven samples returning assays greater than 5 g/t Au.
Ground geophysics and an HLEM survey over the Motherlode North area indicated an interesting magnetic low-high trend of NW orientation coincident with an EM anomaly. Drilling during 2011 yielded a new polymetallic discovery of Au-Ag-Pb-Zn-Cu north of the historic Motherlode Pit. The best intersections obtained to date include 6.07 g/t Au, 15.13 g/t Ag, 0.2% Pb and 0.7% Zn over 4.5 m core length, and 4.11 g/t Au, 6.88 g/t Ag, and 1.04% Zn over 2.85 m core length in two from two separate drill holes.
COBALT REVIEW
During late 2017, the Company performed an initial review to see if its land holdings were prospective for the presence of cobalt (Co). The strategic review identified the presence of at least 13 rock grab samples with greater than 0.05%, including up to 0.10% Co, from at least five separate target occurrences across the eastern half of Grizzly's Greenwood Project area. The database shows an additional 31 rock grab samples that have yielded assays of between 0.02 and 0.05% Co. Maps showing the anomalous values and locations for Co at the Greenwood Project:
A preliminary review of the sample database indicates that many of the rock samples with anomalous Co also contain anomalous values for Cu and precious metals including Au and Ag. In many cases, the samples with anomalous Co were collected from Cu-enriched skarn and hornfels developed in Paleozoic sediments and intrusions, where the original sampling targeted precious metals. Grizzly has initiated a property wide review, including its extensive soil and drillhole database along with much of the historic data for the district that it has compiled over the years. The goal will be to target potential Co-Cu-Au-Ag mineralization associated with skarn across the district and come up with targets for follow-up exploration during 2019.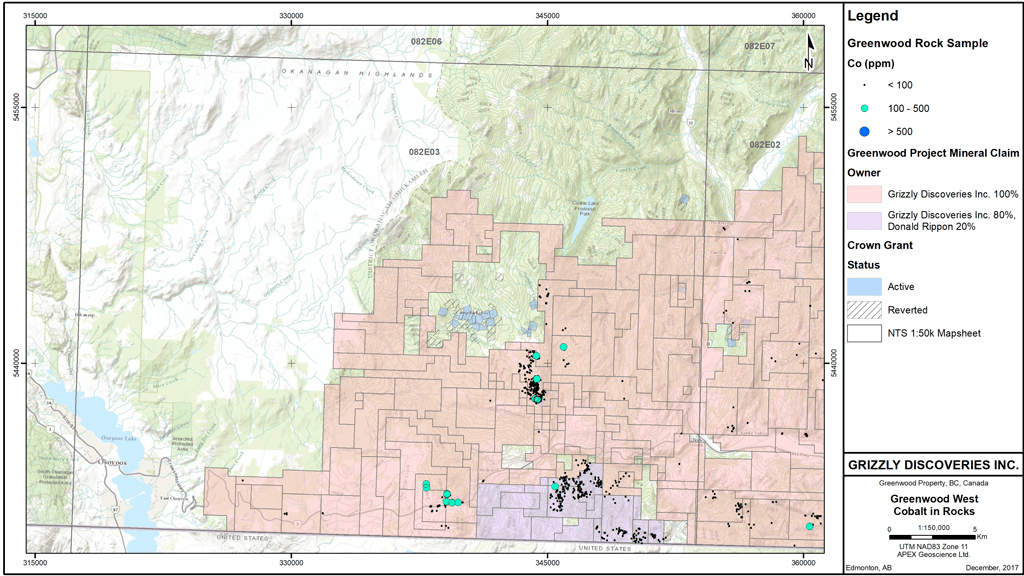 Greenwood West Cobalt in Rocks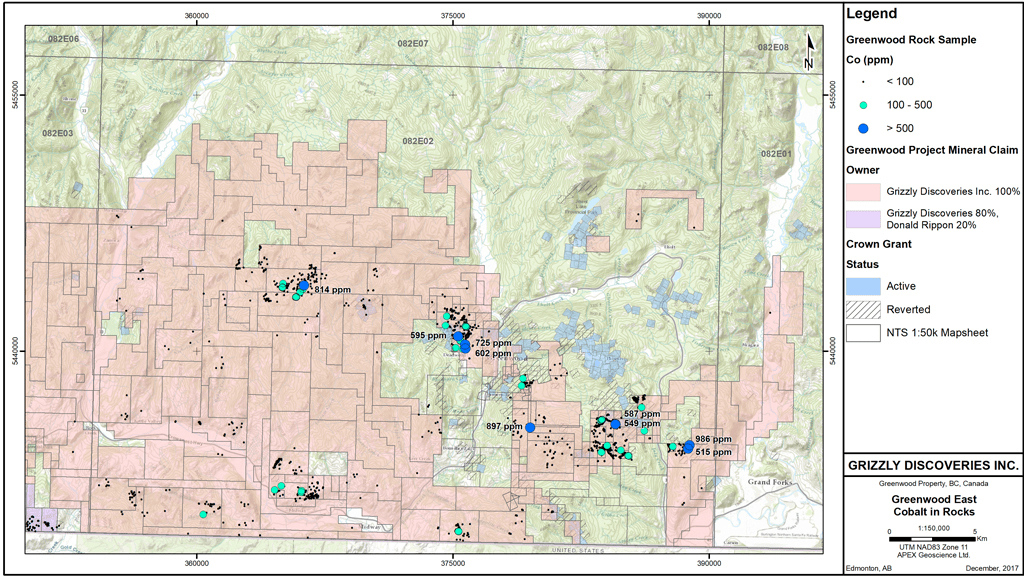 Greenwood East Cobalt in Rocks