EDMONTON, ALBERTA – December 15, 2017 -- Grizzly Discoveries Inc. (TSX-V: GZD; OTCPK: GZDIF; Frankfurt: G6H) ("Grizzly" or the "Company") is pleased to announce that, based upon recent price increases and interest in Cobalt ("Co") for the battery manufacturing market, it has commenced a review of its extensive sampling database for its 227,000 acre Greenwood Project in south-central B.C. An initial review shows the presence of at least 13 rock grab samples with greater than 500 parts per million (ppm), including up to 986 ppm, Co from at least five separate target occurrences across the eastern half of Grizzly's Project area. The database shows an additional 31 rock grab samples that have yielded assays of between 200 and 500 ppm Co. Maps showing the anomalous values and locations for Co at the Project are provided below and on the Company's website by clicking the following link: Grizzly Discoveries Cobalt Maps.
A preliminary review of the sample database indicates that many of the rock samples with anomalous Co also contain anomalous values for copper (Cu) and precious metals including gold (Au) and silver (Ag). In many cases, the samples with anomalous Co were collected from Cu-enriched skarn and hornfels developed in Paleozoic sediments and intrusions, where the original sampling targeted precious metals. Grizzly has initiated a property wide review, including its extensive soil and drillhole database along with much of the historic data for the district that it has compiled over the years. The goal will be to target potential Co-Cu-Au-Ag mineralization associated with skarn across the district and come up with targets for follow-up exploration during 2018.
As disclosed in the Company's October 2nd, 2017 news release, Kinross Gold Corporation's wholly owned subsidiary, KG Exploration (Canada) Inc. ("Kinross") has notified Grizzly that it has completed its 2017 work program, including drilling, and that it is currently preparing a report and finalizing plans for additional work in 2018. Kinross expects to complete its assessment report and filing in early 2018. A summary of results from the 2017 program will be provided once received from Kinross. The following work was completed in 2017:
1,129 metres diamond drilling at Mt Attwood-Overlander and Midway areas
Generative work of mapping and sampling of high priority targets
Cumulative expenditure total US $761,520
Kinross has met its second anniversary obligations pursuant to the September 23, 2015 Greenwood option agreement.
PRIVATE PLACEMENT OF UNITS
Grizzly also announces that it has closed a private placement (the "Offering") by the issuance of 1,200,000 units of the Company ("Units") at a price of $0.05 per Unit for gross proceeds of $60,000. Each Unit consists of one common share of the Company ("Common Share") and one non-transferable warrant ("Warrant") with each Warrant entitling the holder to acquire one additional Common Share at an exercise price of $0.075 per Common Share until the earlier of : (a) 30 days following the issuance of a news release by the Company that the trading price of the Common Shares on the TSX Venture Exchange is at or greater than $0.12 per Common Share for 10 consecutive trading days; and (b) December 15, 2019.
400,000 of the 1,200,000 Units sold were purchased by an insider of the Company. No finder fee or commissions were paid in connection with the Offering. The Company intends to use the proceeds of the Offering for general working capital.
The Common Shares and any Common Shares issued on exercise of the Warrants will be subject to restrictions on trading until April 16, 2018 in accordance with the policies of the TSX Venture Exchange. Following closing of the Offering, the Company has 56,729,405 Common Shares issued and outstanding.
About Grizzly Discoveries Inc.
Grizzly is a diversified Canadian mineral exploration company with its primary listing on the TSX Venture Exchange with 55.4 million shares issued, focused on developing significant Potash assets in Alberta and its precious metals properties in southeastern British Columbia. The Company holds over 227,000 acres of precious-base metal properties in British Columbia; more than 161,000 acres of properties which host diamondiferous kimberlites in the Buffalo Head Hills region of Alberta; and metallic and industrial mineral permits for potash totaling more than 60,000 acres along the Alberta-Saskatchewan border.
The content of this news release and the Company's technical disclosure has been reviewed and approved by Michael B. Dufresne, M. Sc., P. Geol., who is the Qualified Person as defined by National Instrument 43-101 Standards of Disclosure for Mineral Projects.
On behalf of the Board,
GRIZZLY DISCOVERIES INC.
Brian Testo, CEO, President
Tel: (780) 693-2242
For further information, please visit our website at www.grizzlydiscoveries.com or contact:
Nancy Massicotte, Investor Relations
IR PRO COMMUNICATIONS INC.
Tel: 604-507-3377
Toll Free: 1-866-503-3377
Email: This email address is being protected from spambots. You need JavaScript enabled to view it.
Ian Lambert
COO, Grizzly Discoveries Inc.
Tel: 416-840-9843
Email: This email address is being protected from spambots. You need JavaScript enabled to view it.
Neither the TSX Venture Exchange nor its Regulation Services Provider (as that term is defined in the policies of the TSX Venture Exchange) accepts responsibility for the adequacy or accuracy of this release.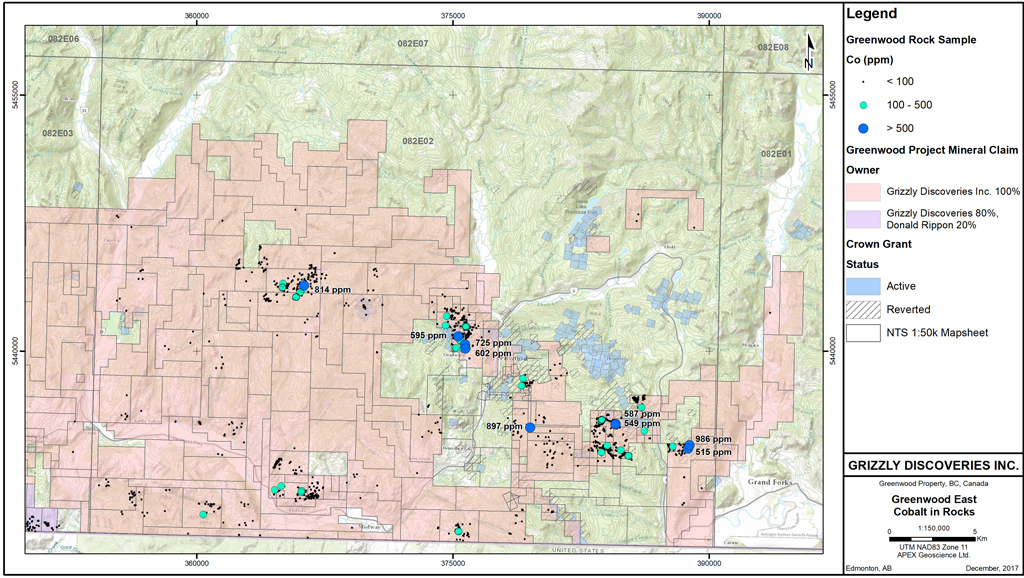 Greenwood East Cobalt in Rocks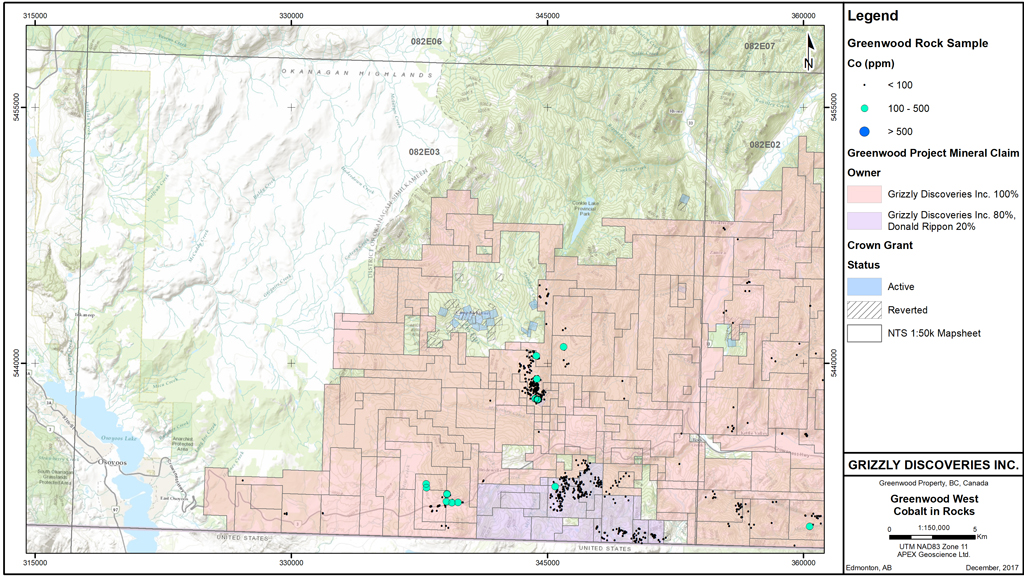 Greenwood West Cobalt in Rocks
Caution concerning forward-looking information
This press release contains "forward-looking information" and "forward-looking statements" within the meaning of applicable securities laws. This information and statements address future activities, events, plans, developments and projections. All statements, other than statements of historical fact, constitute forward-looking statements or forward-looking information. Such forward-looking information and statements are frequently identified by words such as "may," "will," "should," "anticipate," "plan," "expect," "believe," "estimate," "intend" and similar terminology, and reflect assumptions, estimates, opinions and analysis made by management of Grizzly in light of its experience, current conditions, expectations of future developments and other factors which it believes to be reasonable and relevant. Forward-looking information and statements involve known and unknown risks and uncertainties that may cause Grizzly's actual results, performance and achievements to differ materially from those expressed or implied by the forward-looking information and statements and accordingly, undue reliance should not be placed thereon.
Risks and uncertainties that may cause actual results to vary include but are not limited to the availability of financing; fluctuations in commodity prices; changes to and compliance with applicable laws and regulations, including environmental laws and obtaining requisite permits; political, economic and other risks; as well as other risks and uncertainties which are more fully described in our annual and quarterly Management's Discussion and Analysis and in other filings made by us with Canadian securities regulatory authorities and available at www.sedar.com. Grizzly disclaims any obligation to update or revise any forward-looking information or statements except as may be required by law.